Up to Date

News
| | |
| --- | --- |
| | Independent statistical studies and assessments |
| | |
---
Exciting New Research in Autoimmune Diseases

The World's First Fully Clinically Documented Successful Clinical Recoveries From Autoimmune Chron's Disease

Chron's disease Protocol
Ulcerative colitis Protocol
Systemic Lupus Erythematosus (SLE) Protocol
---
| | |
| --- | --- |
| | Patients' own Reports - New Recovered patient's reports continually being added. |
| | |
---
| | |
| --- | --- |
| | Canadian Pilot Study |
| | |
---
| | |
| --- | --- |
| | Washington Medical School Research |
| | |
---
| | |
| --- | --- |
| | London: St George Hospital Research |
| | |
---
| | |
| --- | --- |
| | The CFIDS Protocol Contacts in various countries |
| | |
---
| | |
| --- | --- |
| | Independent medical professionals' comments' |
| | |
---
| | |
| --- | --- |
| | UK CFIDS Health Web Site |
| | |
---
| | |
| --- | --- |
| | Dr Nash Petrovic MD in World Media |
| | |
---
Dr Nash Petrovic MD in World Media: BBC Panorama programme

---

German National Encyclopedia Entry - Dr. Nash Petrovic MD, Global Leader in the CFIDS Field

---

USA Federal and Drug Administration (FDA) Petrovic CFIDS Health Centre Registration Compliance 2019 (2008-2019)

---

Famous and Prominent International Clients and Celebrities
---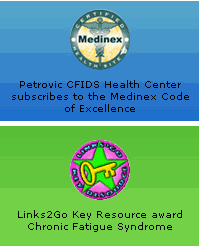 Famous and Prominent International Clients and Celebrities




Dr Petrovic excellent clinical results that are regarded as the best in the field in both USA and rest of the world have attracted attention of many prominent individuals who embarked on the CFIDS Protocol and fully recovered from CFIDS. These clients include:

-Famous,Hollywood based actor and martial arts expert who co-ordinates work of over 200 karate schools world-wide.
-Former Austrian Swimming Champion and Champion Skier.
-Several members of the USA Congress and US Army
-3 former ANB- Australian National Basketball representatives
-Former Technical Director of Eli Lilly Pharmaceutical Corporation
-Top rated Australian Medical Doctor and writer of books on CFIDS who also developed CFIDS and fully recovered on Dr Petrovic's treatment program.
-Top Australian Clinical Psychologist and NT President for a three year term of office of St Vicent De Paul Society in the Northern Territory (N.T.)
-Former President of the High Court RSA.
-Former Director of Makro RSA.
-Former National Adviser for ME to the UK Government and writer of books on ME/ CFIDS
-One of top UK architects, and many other prominent patients.